Idaho & Montana Guide providing wilderness pack trips and trophy big game hunts for elk, deer, bear, and lion


Registered Guide & Outfitters
364 McCarthy Loop
Hamilton, Montana 59840-9146
406-363-4129
Email: [email protected]
SUMMER ADVENTURES

OVER 30 YEARS EXPERIENCE GUIDING WILDERNESS EXCURSIONS IN THE ROCKY MOUNTAINS

We base our summer adventures out of our ranch in the beautiful Bitterroot Valley of Southwestern Montana or our Central Idaho base camp.  We are within a short drive to either Yellowstone or Glacier National Parks.  Two separate packages accommodate different needs and interests.
SUMMER HORSEBACK PACK TRIPS
For those who seek a true wilderness experience, these trips are three to six-day adventures into some of the most scenic and remote areas in the Rocky Mountains.  From a back-country camp in the high country, enjoy wildlife and scenic photography, hike alpine trails, climb granite peaks, ride horseback through meadows filled with wild-flowers, and fish in crystal-clear waters while you relax in the quite and solitude of a wilderness trip away from the hustle of everyday life.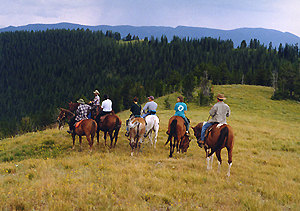 Our trips are tailored to meet your individual needs and interests.  Everything is furnished except your personal gear, sleeping bag, fishing gear, and license (if needed).
IDAHO BASE CAMP VACATIONS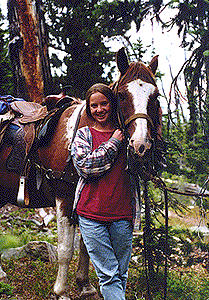 For those who want a Western vacation with more amenities than experienced on horse-pack trips, you stay in the comfort of our base camp with all meals furnished family style.  See the beauty of the Rockies and points of interest in the area.  Enjoy photography, horseback riding, day-hikes, swimming, and fishing in some of the most beautiful country in the Rockies.  Lengths of stay are three days & nights,  four days & nights, or five days & nights.
TRANSPORTATION: Northwest, Delta, United and Alaska Airlines fly into Missoula, the nearest commercial airport. You can meet us at our ranch just three miles south of Hamilton, or if you wish, airport pickup can be arranged.
To assure your spot, please call or write early.  You can confirm your reservation early and allow us time to make arrangements in advance with the U.S. Forest Service.  If you have any questions, please give us a call at: 406-363-4129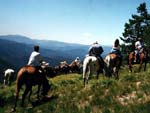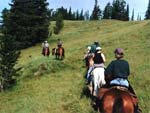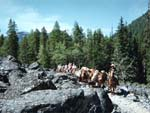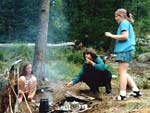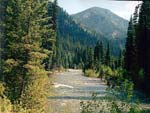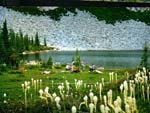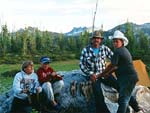 Click on these to see larger pictures
Helping you make everlasting memories…

Bill Mitchell Outfitters Inc

.
Home Page | Summer Adventures | Hunting | Fishing | References | More Info 
OVER 30 YEARS EXPERIENCE GUIDING WILDERNESS EXCURSIONS IN THE ROCKY MOUNTAINS