Idaho & Montana Guide providing wilderness pack trips and trophy big game hunts for elk, deer, bear, and lion


Registered Guide & Outfitters
364 McCarthy Loop
Hamilton, Montana 59840-9146
406-363-4129
Email: [email protected]
DAY RIDES

OVER 30 YEARS EXPERIENCE GUIDING WILDERNESS EXCURSIONS IN THE ROCKY MOUNTAINS

If visiting Montana and you want to do some horseback riding, we invite you to come visit our valley.
Let us take you on a day ride, and show you some of the beauty of our valley, that hasn't changed since the Lewis and Clark Corps of Discovery explored here 200 years ago!
Our rides are in Bitterroot National Forest in some of the most scenic areas the Rocky Mountains have to offer. Our day rides are on trails that go into the Selway Bitterroot Wilderness or the Sapphire Mountain Range.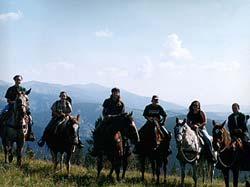 Click to see larger picture
We are located midway between Yellowstone and Glacier National Parks. Our horses are mountain wise, and gentle enough for any level of experience rider.
For a special outing combine a day or two of riding with a day or two of float fishing with us on the Bitterroot River.
If assistance is needed finding accomodations in our area, we would be glad to make recommendations.
If interested in specific dates, advance reservations are needed to reserve dates. Rates are $200 minimum per day on the ride, or $100 per person, per day for 1 or 2 riders. Rates are also available for larger groups.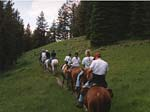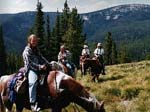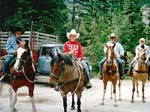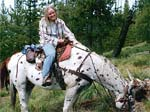 Click on these to see larger pictures
Helping you make everlasting memories…

Bill Mitchell Outfitters Inc.

Home Page | Summer Adventures | Hunting | Fishing | References | More Info 
OVER 30 YEARS EXPERIENCE GUIDING WILDERNESS EXCURSIONS IN THE ROCKY MOUNTAINS